Denver and Lakewood's Whitest Teeth
No matter where you look – TV, magazine, or all around you – teeth are white, white, white. Now, Mile High Smiles can brighten your smile with powerful tooth whitening treatments that lighten discoloration caused by coffee, cigarettes, medication, or aging. You will notice the difference immediately…and so will everyone else.
ZOOM! Teeth Whitening
Dr. Levitin and his team at Mile High Smiles leverage the most cutting-edge technology to ensure the best tooth whitening results for their patients. We are proud to employ the Philips ZOOM! suite of products, which include an in-office whitening system that leverages the power of LED light to accelerate the whitening process. This means patients can enjoy a smile that is as many as eight shades whiter in just 45 minutes with no discomfort to sensitive teeth. That additional pain-free perk can make a huge difference. Many other office systems can be extremely unpleasant, either during or after the procedure. The Philips ZOOM! system is safe, reliable, and totally painless – Dr. Levitin himself tried it out, just to be sure!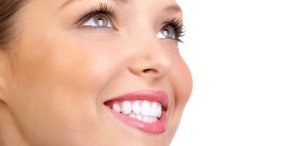 Over-the-counter whitening treatments are available to consumers (it is nearly impossible to avoid their heavy advertising) in multiple forms, like strips and whitening toothpaste. Unfortunately, these products are highly variable in terms of price, ease-of-use, and – most importantly – effectiveness. In truth, tooth whitening is really a pretty straightforward procedure. Tooth whitening products traditionally consist of bleaches (like hydrogen peroxide). These bleaches are able to reduce the size and prominence of stains into significantly less obvious idiosyncrasies, making them more manageable and less pronounced. This means reduced stains overall, which in turn creates observably brighter teeth.
Generally speaking, a professional tooth whitening service provided by the dentist will take approximately one hour of your time. The time frame depends in large part on the severity of stains and the desired outcome. More intense, widespread staining or the desire to achieve an especially brightened smile will usually require a longer procedure.
The Mile High Smiles team can custom fit your mouth with a thin and comfortable tray. Then, we dispense syringes of professional strength whitening gel with which to fill the trays. Patients can continue treatments at home until their teeth are as bright as they would prefer.
Whitening Your Teeth: What Are The Benefits?
Whiter teeth can improve your life in a number of ways, some of which may surprise you. First and foremost, white teeth are one of the most prominent indicators of good oral health, which is closely related to how we perceive overall health. Discoloration and dental erosion are two of the most common visible effects of getting older. As such, whiter teeth can make you look younger and more vivacious.
Similarly, white teeth empower many patients with an extra boost of confidence. How does this help you day-to-day? The perks of carrying yourself with more confidence are too many to count. Whether you are looking to command a boardroom or dazzle on date night, a confident, self-assured demeanor can help make it happen. A bright grin invites more instant attraction and faster connections with the people around you. This is highly advantageous both socially and professionally. You can stop feeling self-conscious, actually enjoy taking photos, and get over any previous embarrassment about your smile.
Whiter teeth also offer the additional benefit of inspiring a more dedicated oral health regimen at home. When your pearly whites are dazzling, patients tend to want to keep them that way. This newfound motivation is likely to manifest as more enthusiasm around brushing and flossing multiple times a day to avoid stains and cavities. Your dental and periodontal health will thrive as a result.
Why Professional Tooth Whitening?
Professional whitening treatment provides a number of benefits that over-the-counter products cannot.
The Mile High Smiles team offers the ZOOM! suite of whitening products, all of which are more thorough and effective than what is available for purchase at your local drugstore. At-home whitening programs are too often "one-size-fits-all" in terms of both fit and strength. However, every patient's mouth is unique, so this approach can lead to uneven results. Some teeth may be perfectly whitened, but it is not uncommon for others to retain their stains. Professional whitening ensures that each and every tooth achieves the same bright shade of white. There is simply no substitute for expertise. Dr. Levitin is able to safely and comfortably cater your whitening program specifically to your needs.
The comparative strength of treatments also warrants consideration. Almost all over-the-counter whitening products are only able to whiten your teeth by one or two shades at most. Professional treatment whitens teeth by as many as eight shades, thanks to the much stronger products dentists are qualified to use. Convenience is also a major factor. Whitening treatments at home typically require weeks or months of consistent use before results become noticeable. In contrast, the ZOOM! Whitening system can produce much more dramatic results in just one in-office visit.
We offer teeth whitening in our dentist office in Belmar of Lakewood, Colorado. Feel free to get in touch with us if you would like more information.